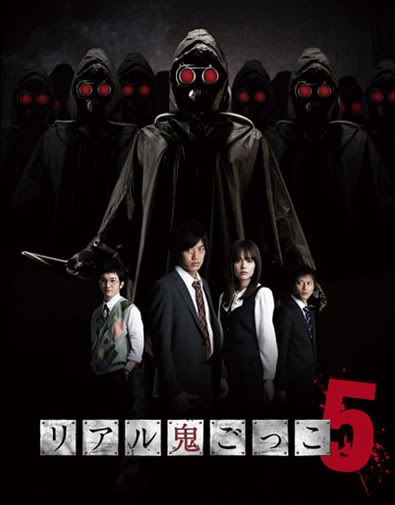 "In 2008, Yusuke Yamada's popular Real Onigokko novel was adapted as a relatively low budget movie starring Takuya Ishida, Shunsuke Daito, and Mitsuki Tanimura (international English title: The Chasing World). In the story, a teenager named Tsubasa Sato is pulled into a parallel world where anyone with the surname Sato is hunted relentlessly by creepy masked men under orders from a mysterious king. Anyone who dies in the parallel world also dies in Tsubasa's original world, so he spends the majority of the story protecting the alternate version of his sister.
The movie did surprisingly well with teens and tweens due to repeat after-school viewings, and a sequel followed in 2010.
In the new movies, people with type B blood are victims of the game. Each movie has a unique setting and features a different young "ikemen" actor in the lead. Part 3 stars Kento Yamazaki, part 4 stars Atsushi Arai, and part 5 stars Masahiro Inoue." (Taken from Cinema Today)
Real Onigokko 5 is directed by Mari Asato. It's the last of three "Real Onigokko" movies released in 2012.
(

If you're type B, you better run like hellCollapse

)




I have one request though. Please, please, please, please do not upload the movie on any online video sites. Please do not hot link these because it took me ages just to upload them.

And last, please support the actors by buying this DVD when you have a chance (b^-゜)


Also, you can find my upload of Real Onigokko 3 and 4 at
d2boys (You have to join the community though because the post is friend-locked.)